Nine and Feelin' Fine
Thank you to everyone for the Birthday wishes for Sid. Saturday was the big day and I tried to go all out with his Birthday cake this year.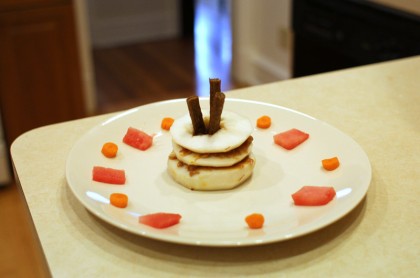 This year's model was pretty similar to last year's, with the main part of the cake fashioned out of a de-cored Michigan apple  sliced into layers with peanut butter spread in between each layer. However, those brown sticks are a new addition. They are called "Jumpin' Sticks" from Natural Balance. They pretty much look like Slim Jims for dogs. The perimeter decoration consisted of two of his favorites edibles: baby carrots and watermelon slices.
While I was busy slicing and dicing and assembling said cake, Sid was doing his best to manage his excitement. There was a lot of panting, heavy breathing, squeeking, and scurrying around taking place. I mean, how much anticipation can a pug take!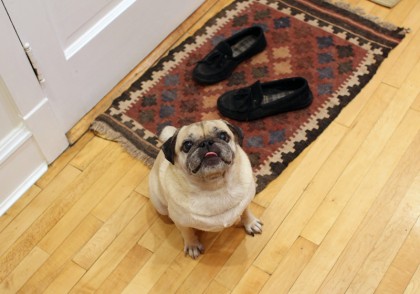 I set up the cake on Sid's play blanket because he is known to make a huge mess when he eats watermelon. He employs his patented "gorge and regurgitate" method when consuming large watermelon chunks. It's a bit disturbing to the uninitiated and the main impetus behind the super-tiny cuts of watermelon on the plate.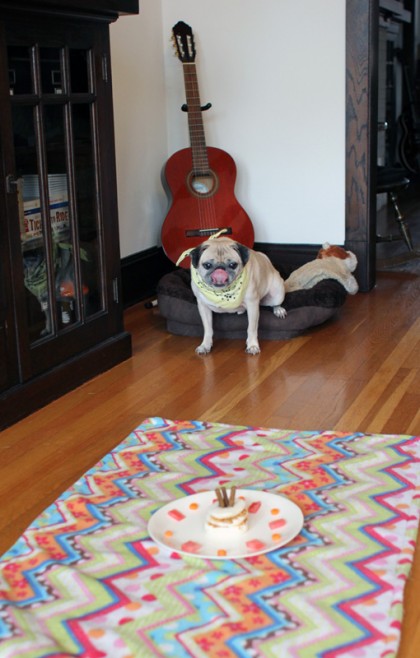 He could barely hold that pose for one photo and then he dug in full stop. Yum!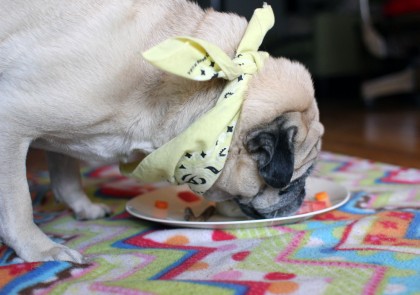 Happy 9th Birthday to my best little buddy!!!