Have Pug, Will Travel – Part 4
After celebrating Sid's 11th Birthday (for two full weeks, per his instructions!) we are back to continue the recap of our "Have Pug, Will Travel" road-trip from September. If you need to catch up with earlier installments, here's Part 1, Part 2, and Part 3.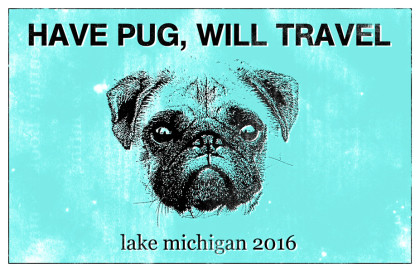 When we last left you, we had set up camp at Tahquamenon Falls State Park, which is located on the east side of Michigan's upper peninsula. In the lower falls area, you can row a little boat out to an island that is surround on all sides by several cascading waterfalls. We definitely weren't going to pass this up!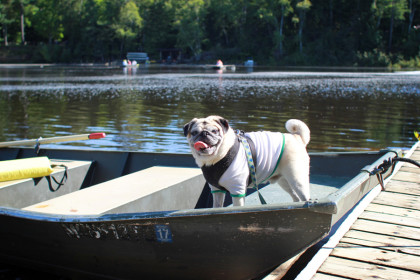 After acquiring his sea legs, Sid enjoyed the easy rowboat ride to the island. On the island is a trail that winds around the perimeter so you can get right up close to each waterfall. I made a little video of some of the lovely sights that Sid and I observed.
The shots at the end of video are actually of the giant upper falls. With a drop of nearly 50 feet, it is one of the largest waterfalls east of the Mississippi.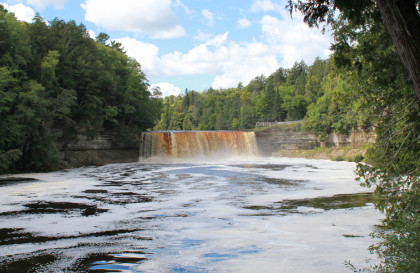 I asked Sid if he wanted to try riding over the upper falls in a barrel, and this was his response: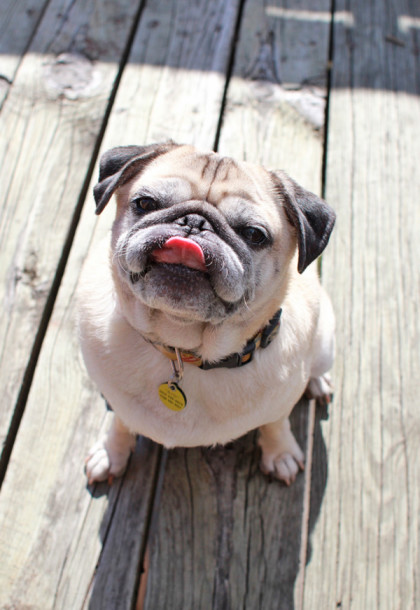 There were quite a few sets of stairs around the upper falls that connected the various viewing locations, and even though I had to carry a 24-pound furball up and down each set, the views were totally worth it!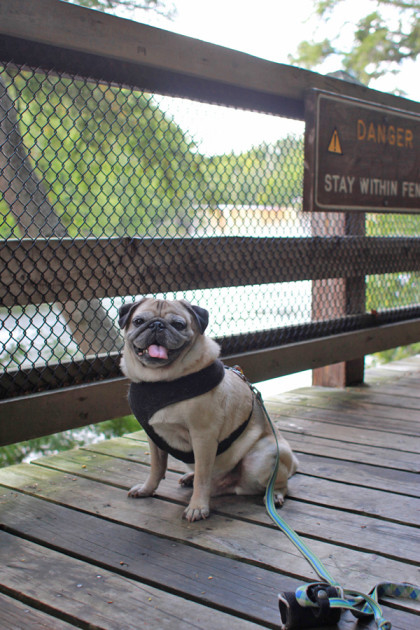 After a fun day of exploring the falls and some nearby trails, we hopped back into the car and headed south towards the lower peninsula of Michigan. My flat-faced navigator decided to switch to auto-pilot.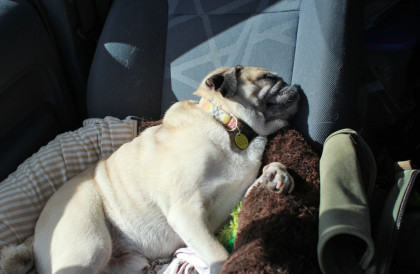 We soon approached the enormous suspension bridge, affectionately known as "Mighty Mac", that connects both the upper and lower parts of Michigan. I was slightly terrified as we crossed, since the roadway is over 200 feet above the water at the midpoint! Eep!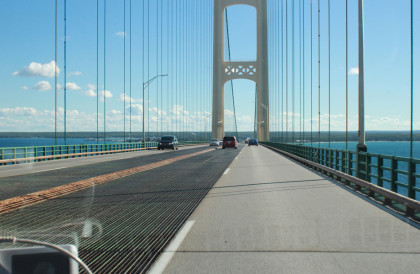 Our next stop was Petoskey State Park, where we set up camp. The campground was fantastic, with lots of tree coverage, and a quick walk right to a lovely beach.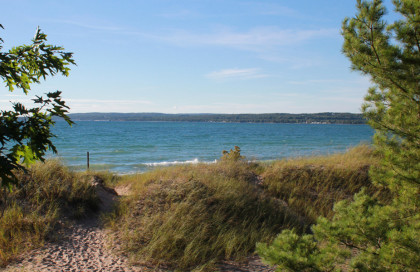 We parked our van, got settled in, lit a campfire, and had some dinner.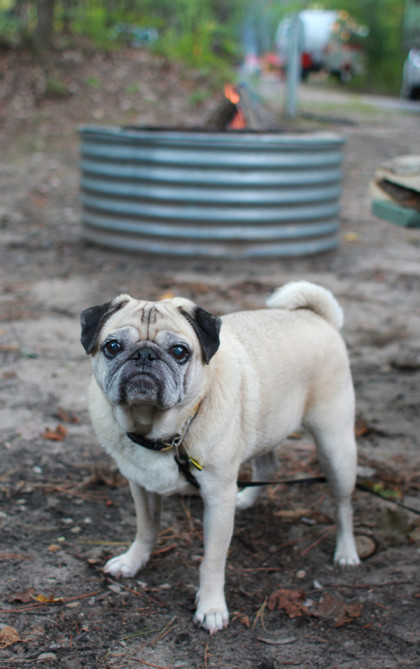 After we filled up our bellies, we headed to the beach as the sun was beginning to set.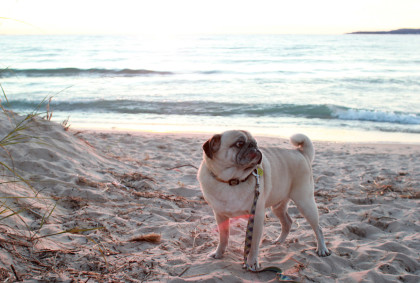 There was a picture-perfect sunset over Lake Michigan that evening.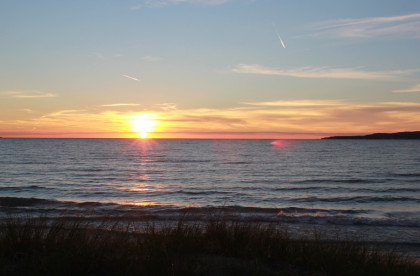 The moon was full and bright, making the conditions ideal for some dramatic pug posing.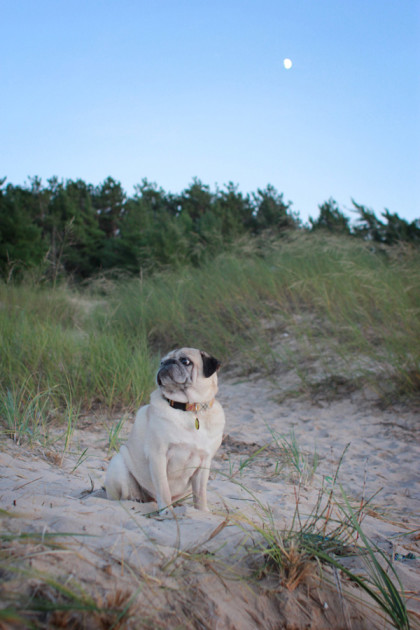 After a good night's sleep, we awoke the next morning and headed straight for the beach!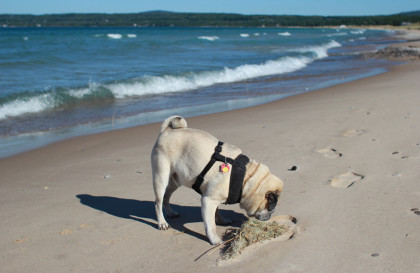 There were lots of smooth round rocks on beach. Sid insisted upon sniffing every one in the event that one of them was actually a disguised treat.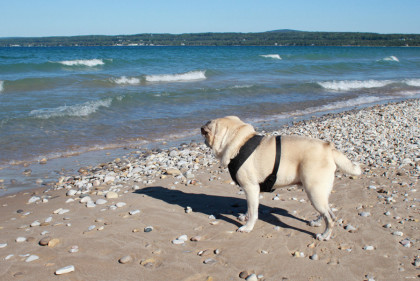 We had a great time exploring the beach and dipping our toes in the soft rolling waves. After we had our fill of sand, we went for a hike on one of the nearby trails: the "Old Baldy" trail. The woods were very beautiful, especially when the soft breeze would make all the leaves flutter.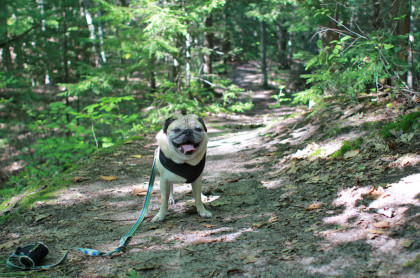 I wished we could have stayed another day in Petoskey as the campground and beach were lovely. However we had to get back on the road and make way to our next stop: Traverse City and the Sleeping Bear Dunes! We'll tell you all about it in Part 5!
Tags: adventure, Have Pug Will Travel, Lake Michigan, Petoskey, road trips, Sid, Tahquamenon Falls, travel, videos, waterfalls