Purple Polka-Dot Happy Good-Time Pug
Yes, Sid is wearing a purple polka-dotted bootie.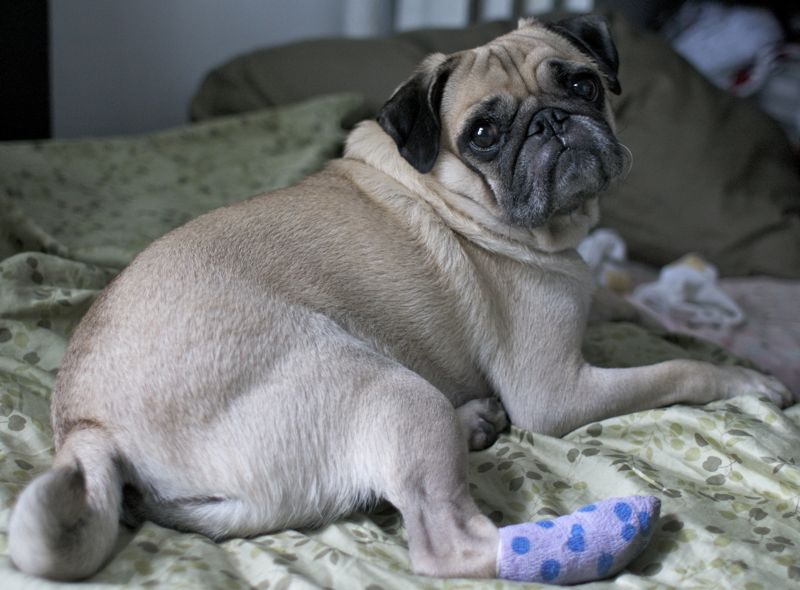 In the midst of all the excitement over Sid's new pug-mate last week, we noticed that our handsome husky* guy was having a very…odd…health issue.
Between his toes, on his back right paw, were some weird growths.  Sid doesn't like having his feet touched, so we were attempting to piece together the facts based on repeated split-second views of his foot.  It looked like one of the growths was big and round, and the other was long and skinny – Brian claimed he saw a nail growing out of the long one and he was convinced that Sid was growing a mutant toe.  I, meanwhile, was trying to keep an open mind and set off to Googling phrases like "dog toe growths" and "dog mutant paw anomalies" and "pug prosthetic limbs discount."
We set up an appointment for Saturday morning with our very patient vet, Dr. Quim, at the Prospect Park Animal Clinic. Sid reluctantly let Dr. Quim take a good look at his toes, and Dr. Quim was pretty sure it's just a viral papilloma (or, in layman's terms, a wart).  But, he wanted to do a biopsy, just in case, so Sid got to spend his weekend wearing this jaunty purple polka-dotted bandage, which, considering that dogs are color-blind and not particularly amused by patterns, and also considering the bandage was wrapped around his foot immediately after we watched him scream in pain during the biopsy and subsequent cauterization of the affected area, is obviously designed to promote the healing of both the pet's foot and the parents' mental health.
I mean, how could your mood not perk up when you look at this silly thing?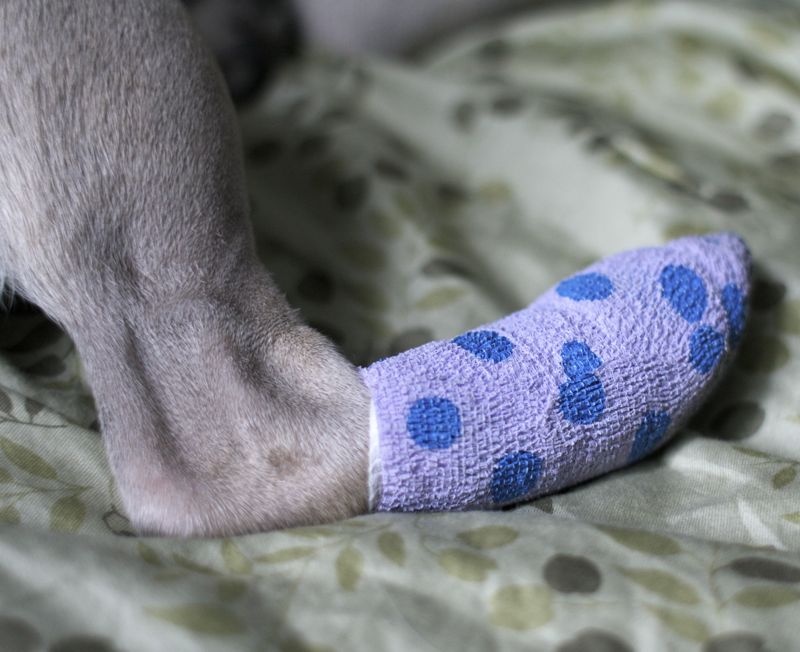 We were able to take the polka-dot bootie off his foot yesterday, and we should hopefully hear from the vet in the next few days with the results of the biopsy – We'll keep you posted!
*More on Sid's newfound "huskiness" tomorrow.