Sid Picks – Day 3
Okay, guys, this one's gonna be quick 'cause my Timothy Buttons is chillin' in the other room and she gets all grumpy when I don't give her enough attention, even though today's Sid Pick's are all about HER and how she's the APPLE of my EYE, which, by the way, is the best thing you could EVER call someone because apples are the best tasting fruit, and eyes are the things that allow you to see apples, so DUH, that means she, she – omgIambeingdistractedbyanactualapple–
AHEM – MY NAME IS MEESTER SID AND I THEENK TIMOTHY EES BEE-A-YOU-TEE-FULL TO BEE-HOLD, THA LUBLIEST LAIDEE IN ALLSA BROOKLYNNE, AND I THEENK THIS BLOG SHULD BE ALLS-ABOUTS THE LAIDEE TIMOTHY BUTTONS ALLS-OF-DA TIMES! LA-LA-LA-LA-LA-LA-DEE-DA-LA-LA-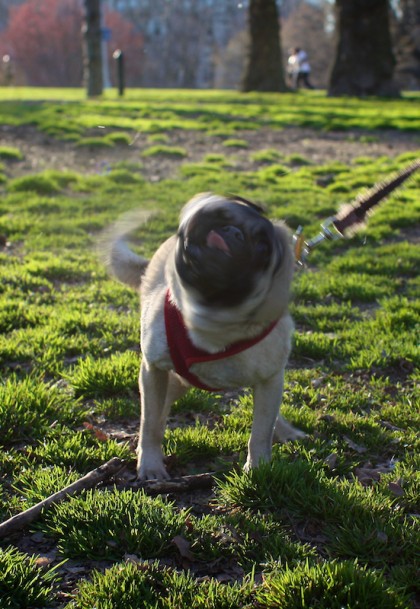 DOOBEE-DOOBEE-DOO–LA-LA – – ACK!
(Hey, guys – Jenn here.  I took a break from packing and found Sid munching on an mysteriously obtained apple, and T-Buttz typing away on the laptop, creating a PLANET PRETTY TIMOTHY masthead…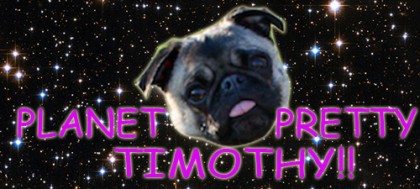 …I swear, you turn your back for one second…)
Okay, guys, Mom says I can't let Timothy distract me with apples or use the Photoshop until I get today's Sid Picks up on the blog, so here we go:
First up, there's Timothy's first appearance on Pug Slope.  This was before she was my girlfriend, when I secretly hoped and wished she'd be my girlfriend but worried she wouldn't want to date me since she was all tough and I'm more cool than tough.
Then there's this post from the first time she came over to my house and we made a really awesome video.
Then there's this post where we went swimming in the bathtub together and then we went to the park and it was awesome.
I love her.
Tags: mayhem, PLANET COOL SID, Sid, Sid's Picks, Timothy Buttons