But I'm Only 17 Pounds
In the last few months, someone in our family has put on a few extra pounds. The family member in question has a flat face, likes treats, and still has a wart on his muzzle (named "Carl"). Did you guess who?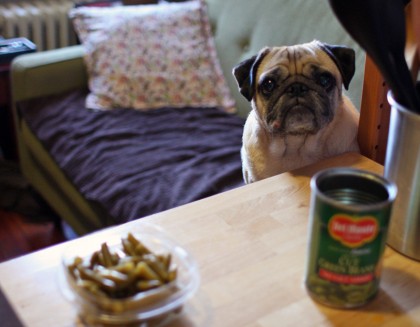 So yeah, it looks like it's time for the infamous "Green Bean Diet". I think the fur on the back of Sid's neck stands on end any time the "D Word" is uttered. Sid is a smart cookie, though, and I'm certain he tried to bamboozle me when I brought him to the vet last week to pick up some prescriptions and to do a weigh in.
Vet Receptionist: "He's 17.1 pounds".
Me: "What the?! No way. He was almost 22 pounds the last time we were here. The scale must not have been zero-ed out or something. Could we try again please?"
Vet Receptionist: "Sure. OK – well, still looks like 17.1 pounds".
Back Home:
Me: "Alright, Sid, who did you bribe at the vet to rig that scale? And 17 pounds?! C'mon! I don't think you've weighed close to 17 pounds since you were a puppy!"
It's true. I think the lightest Sid's ever been under our watch was 18 pounds and he looked extremely slim at that weight. He looks like a fawn bratwurst now so there must have been some problem with that scale. I weighed myself on our home scale and then picked up Sid, and it looks like Sid is more like 24 pounds than 17. Who does he think he can fool?
So for breakfast and dinner now, Sid's getting 2/3 of his regular food and 1/3 unsalted green beans. Yum!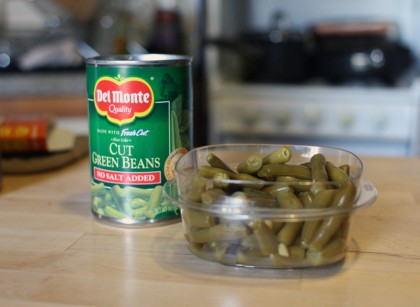 Much to our surprise, Sid was actually super excited about the green beans. I guess we should have expected it. He has a thing for canned goods. He immediately got up to his usual shenanigans just as I was trying to take a photo of the green bean can.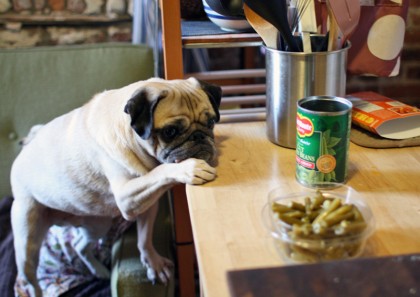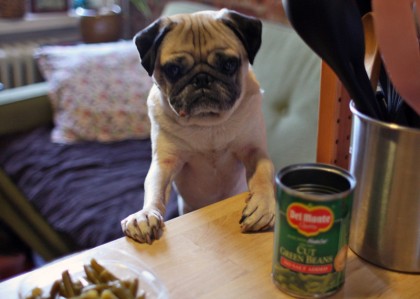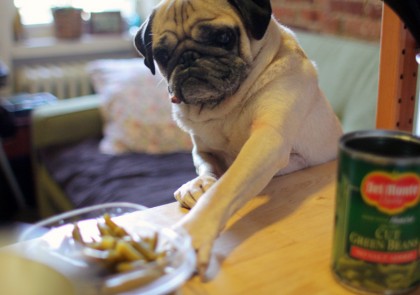 I think he'll have no trouble with the green beans as long as we don't mention the "D Word".
Tags: green beans, mischief, Sid