As you may already know by now, one of Sid's favorite things ever is his treasured Wigzi treat ball. Each day, when I eat lunch, Sid gets a treat ball stuffed with a couple crunchy treats and dab of peanut butter.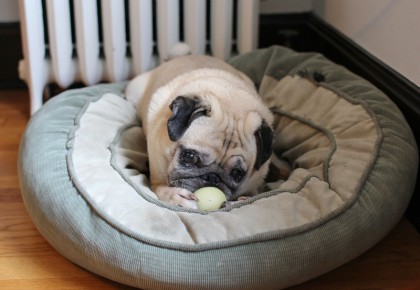 (Sid and his glow-in-the-dark Wigzi circa 2014)
The only downside to the Wigzi is that even though it is pretty durable, after several months-worth of chomping sessions, it eventually starts coming apart at the seam. Based on Sid's daily usage, the lifespan of the Wigzi was about 2-3 months.
About a year and a half ago, I discovered that the Wigzi was sadly being discontinued. How could this happen to Sid's FAVORITE THING ON EARTH?! I searched every online and brick-and-mortar retailer I could but most were already out of stock. However I lucked out at Drs. Foster and Smith, who still had half a dozen left. So I did what any sensible pug dad would do: I ordered every single one of 'em!
Things had been just fine for many months until our stockpile started to dwindle. I emailed the owner of the Wigzi company and he mentioned some kind of deal with Kong that had been in the works. It sounded like the patent for the toy had been sold to the Kong folks. Well, I waited and waited, while Sid's last Wigzi ball slowly started to show signs of its imminent demise.
But as fate would have it, as soon as the last Wigzi could hold peanut butter no more, I found Kong had released their "Widgets" pocket ball, which is exactly the same thing as the Wigzi, only it was offered in a different assortment of bright colors!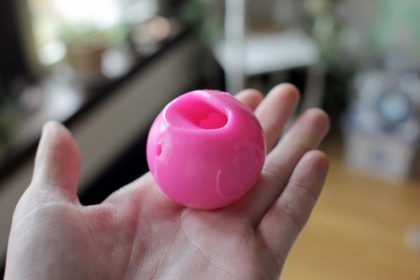 Of course Sid couldn't care less who made the ball, as long as it was delivered to him at high noon stuffed with goodies!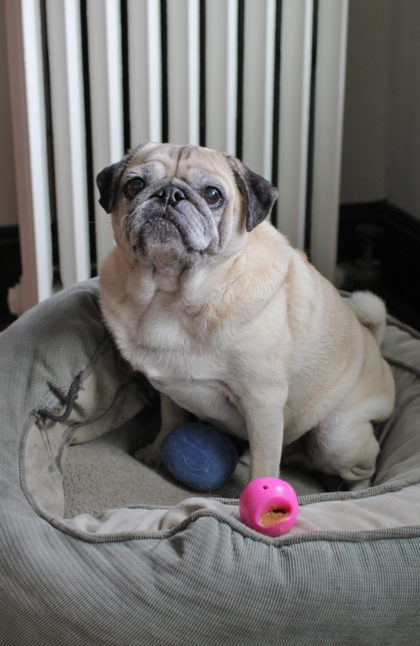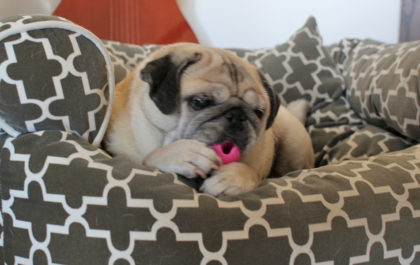 And in true pug fashion, every time he cleans the last morsel out of the pockets he brings the ball over to me, plunks it down at my feet, looks up at me with an expression that says "OK, I'm back for my free refill".