We would like to thank you all for the positive thoughts and good pug juju you sent to Sid regarding his hind leg and back. He's doing much better now and his pug saunter is almost back to 100 percent. He's got a few more laser therapy sessions at the vet lined up so we're keeping our fingers/paws crossed.
I know we just finished up reporting on our HPWT trip that culminated with a stop in Holland, MI, so it's only fitting that we went back there just a few days after I wrote that last post! This time my friend Anna (affectionately known as "Aunt Anna" to Sid) and her young son came along on our adventure.
Holland is about a three-hour drive from Chicago and midway through our journey we stopped for lunch at Panera. Anna and her son ate inside while Sid and I got our lunch to go and ate outside in the rear hatch of our rented Toyota Rav4.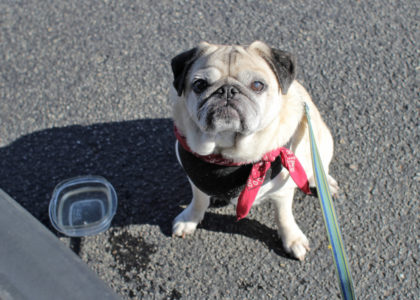 "Hold up!" you might be saying right now. Yes, I did say "ate outside", and yes our adventure was taking place in the middle of winter. Well, let me explain. Somehow on this late January day the sun was shining brightly, the sky was cloudless, and the outside temperature was almost 60 degrees! It definitely felt surreal but certainly made our dining al fresco experience extremely enjoyable. Sid even got to indulge in some potato chips which he normally would never get.
We arrived in Holland and our first stop was the music store R.I.T. Music. You see, one of the intentions of this trip was so I could buy a guitar amp I had seen at the shop when Sid and I passed through Holland on our HPWT trip last September. Mission Accomplished! We then took a stroll down the main drag, 8th Street. Well, the three humans strolled; the pug rolled.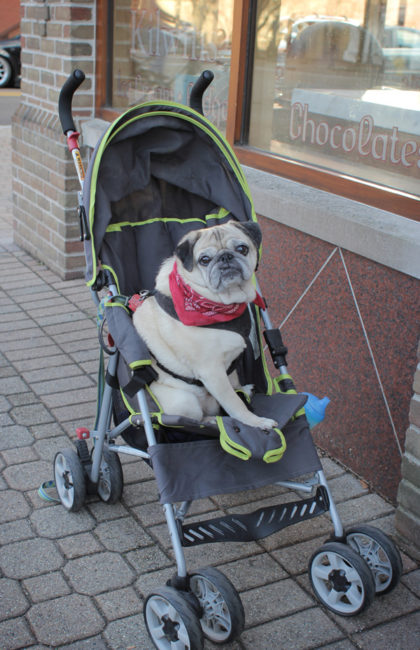 Yes, this happened to be the day that Sid's back leg stopped working properly, almost immediately upon arrival at our destination. After an attempt to carry him left me with a tingling arm in under fifteen minutes, Anna thoughfully suggested we prop Sid up in the vacant stroller her son had been riding in earlier.
Being carted around like royalty came natural to Sid and although I had now become "that guy that pushes his pug around in a children's stroller" the smiles he put on the faces of passersby made it all worthwhile.
We got some delicious sorbet and ice cream at Kilwin's and that's when Sid laid into me and Anna with his classic guilt-trip stare.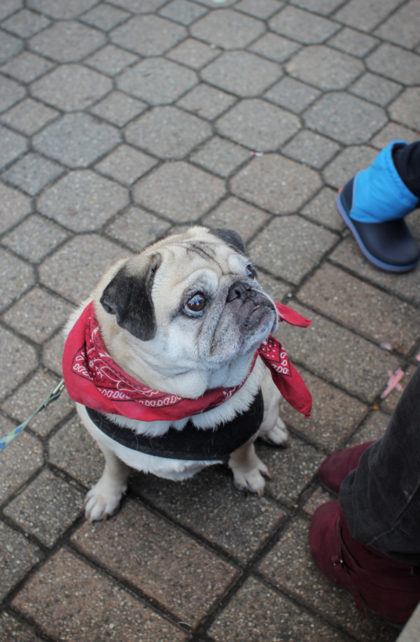 Like a sucker, I fell hard for it and soon the little furball was lapping away at my ice cream. Within minutes both Sid and Anna's son were under the spell of a massive sugar rush!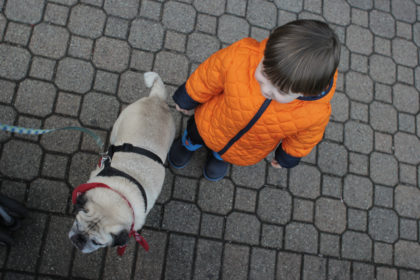 We checked out a few more shops on 8th Street and then hopped in the car and rode over to Windmill Island Gardens. In the winter there isn't really anything happening in the garden department, but the grounds are open, and free, and THERE IS A HUGE DUTCH WINDMILL! How could we resist?!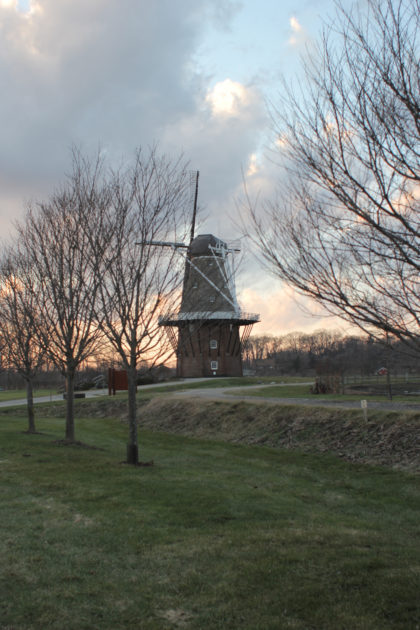 The sun was setting by this point and the sight of the pink and purple clouds reflecting off the canals was magical.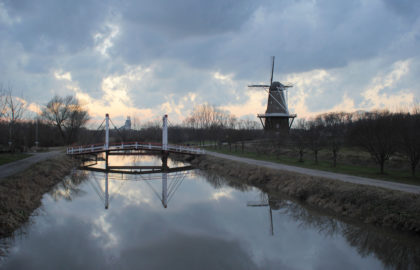 If you ever are passing through western Michigan, be sure to stop by Holland. It's pug-approved!